| | |
| --- | --- |
| Brand | TRN |
| Warranty | No Warranty |
Feature:
TRN MT1 Pro has carefully developed a new dual-magnetic circuit moving coil. Compared with the original TRN MT1, a new magnetic circuit and magnetic flux increased 15%. The stronger magnetic field and more substantial magnetic flux make the energy of medium and low frequency more separated, impact, and have a better performance for the bass quality shock.
The imported resin cavity is matched with bright metal accessories thanks to resin inlaid metal technology. The cavity and the metal cover are tightly bonded together, using resin inlay technology, it showing the excellent texture of TRN MT1 Pro.
A semi-open back cavity acoustic cavity is adopted to achieve the air pressure balance. The sound coming out is softer, lighter, airy, and the surrounding feeling is more comfortable. And it can also effectively relieve the pressure on the eardrum and easily enjoy the beauty brought by the sound.
The external shell is shaped for long-wearing without fatigue or irritation. It is based on the human ears' forms. The secure, over-the-ear design ensures earphones stay in place for unmatched comfort and sound isolation.
From reviews and customers feedback, it is known that the new and improved 2 Pin connectors can effectively protect the contact pins from accidental breakage, which gives longevity and better wearing stability to the users.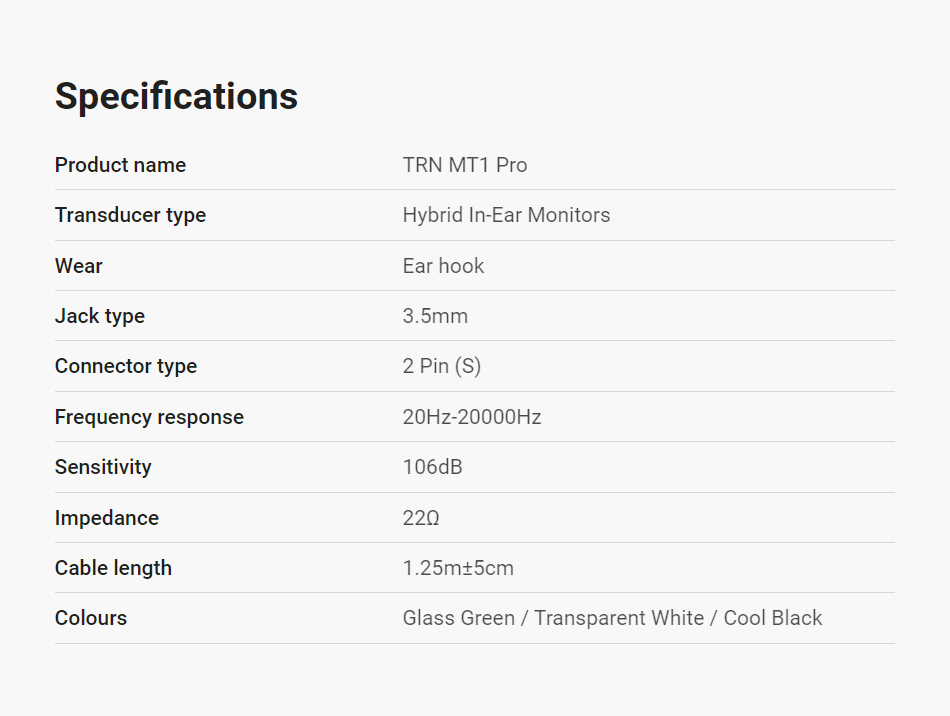 he