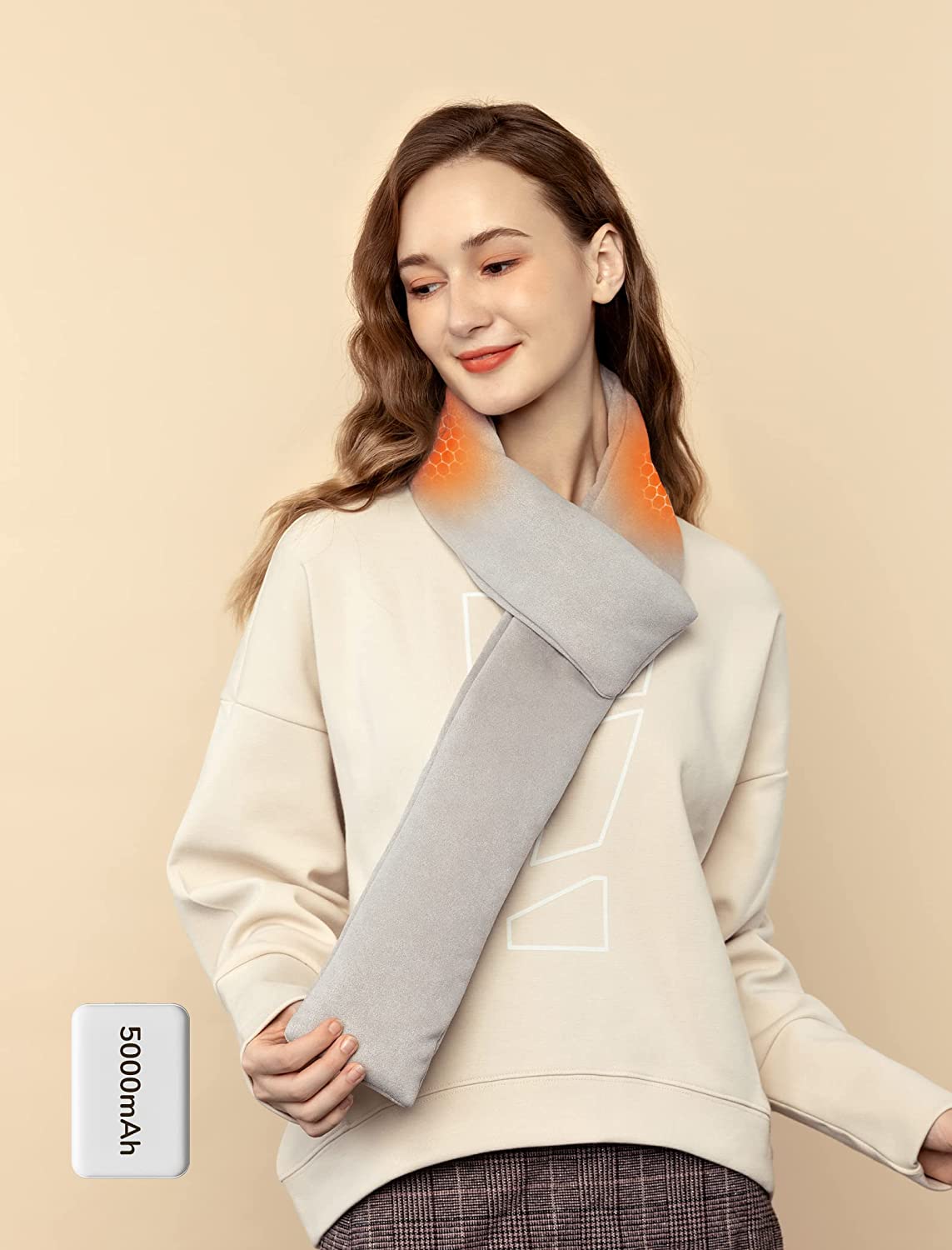 JISULIFE Heated Scarf Neck Heating Pad With Power Bank:
Feature:
Advanced Heat Tech: JISULIFE neck heating pad is equipped with Graphene Heating Chip to release far infrared thermal energy and warmth around your neck for blood circulation promotion and muscles tense relaxation.
3 Steps to Use: Step 1: Connect the power bank to the scarf USB port; Step 2: Turn on the power bank; Step 3: Long press the switch 1.5 seconds to turn on/off , Short press to change levels. NOTE: The heated scarf is featured with 45 mins auto shut off for overheat protection.
3 Heating Levels: The heated neck wrap is featured with 3 heating temperature, respectively 140°F/60°C(Red), 122°F/50°C(White), 104°F/40°C(Blue). NOTE: The neck warmer starts on red (140°F) and turns to white (122°F ) after 5 mins.
Use it Anywhere with Power Bank Included: The usb neck heating pad is powered by a 4500mAh power bank. It is suitable for outdoor activities like commuting, hiking, and traveling without plug restriction compared to other heating pad. One full charge lasts up to 2.5-5 hours use. Red mode stay warm for 2.5h, White mode for 4h and Blue for 5h. The power bank can also get your mobile phone charged in case you need.
Soft Materials & Trendy Gift Choice: Made of Suede-like fabric, the mini heated scarf is soft and comfortable. Make sure to hand-wash or wipe it off with a wet towel and remove the battery before washing, hang to dry without wring. The trendy design make it suitable for both men and women to fit your coats. It would be a considerate gift choice for your friends and family in the cold winter.